Are you looking for Tyres Size for your vehicle?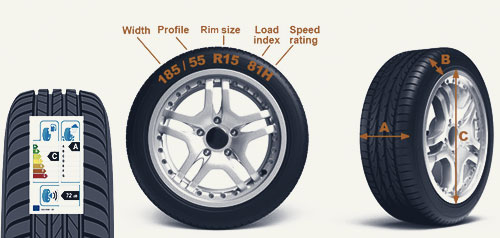 You must have noticed an alphanumeric code written on the sidewall of a tyre. This code reflects the tyre size. Every vehicle has its own prescribed tyre size, and you must not deviate from this while opting for a replacement.
Our industry experts at The Arches Garage Ltd strictly advise you to not experiment with your car tyre size. If you have any query, turn to professionals like us. We offer quality tyres of various sizes to suit your requirements. We will also help you in understanding tyre size meaning.
How to read the tyre size?
Let us take one of Continental's most popular tyre sizes as an example.
225/50 R17 98H
Here is how you can decipher this code.
The first three numbers, 225, represents the section width of this particular tyre, measured in mm.
50 is the aspect ratio, represented as a percentage of the section width.
R signifies that this tyre has a radial ply construction.
17 is the rim diameter of this tyre. It is measured in inches.
98 is its load index. It means that this particular tyre can carry a maximum load of 750 kilograms.
H is its speed index. Here, H corresponds to 130 mph.
When you buy car tyres Bolton from us, we ensure that the units fit your vehicular specifications. Our specialists at The Arches Garage Ltd make it a point to provide you with the right tyres Bolton for these reasons:
It ensures correct speedometer rating
It maintains acceleration
The Arches Garage Ltd is a name you can trust.
So, why don't you put an end to your 'tyre near me' searches with us?
Call us on 01204 370 864.