Are you looking for All Season Tyres for your vehicle?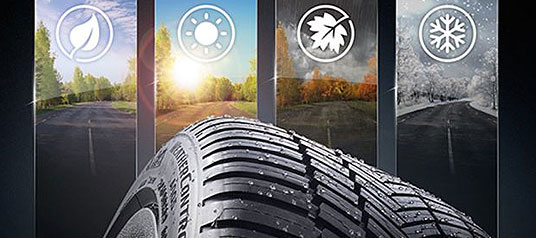 The transition between seasons can significantly affect the handling of your vehicle due to several factors like weather conditions, terrain, and most importantly, an inappropriate set of tyres. A majority of car owners find it quite hectic and resent the additional costs to change tyre sets twice a year.
At The Arches Garage Ltd, we stock premium quality all-season tyres Bolton from the best-in-class manufacturers.
Why should you opt for all-season car tyres Bolton?
All-season tyres are the perfect blend of summer and winter variants. Read on to know what makes them perform equally well in such diverse road and weather conditions.
All-year-round comfortable ride

Their unique tread depth makes all-season tyres capable of performing efficiently throughout varying weather conditions. These units have a moderate tread depth, intermediate between that of summer and winter tyres. Additionally, the unique groove pattern and the fusion of unique rubber compounds make all-season tyres Bolton ideally suited for the prevailing UK climate, offering optimum grip on wet as well as dry roads.

Longer tread life

All-season tyres are capable of resisting wear and tear for a longer period than summer counterparts.

Cost-effective

Getting one set of car tyres Bolton for the whole year saves you from the burden of spending individually on two sets of summer and winter units.

Our best-selling all-season tyres

Some of the most sought-after all-season tyres Bolton in our inventory are listed below.

Bridgestone DriveGuard
Goodyear Vector 4Seasons G2
Continental AllSeasonContact

Michelin CrossClimate+
Pirelli Scorpion Verde All Season

What are you waiting for? Drive down to The Arches Garage Ltd today to buy all-season tyres Bolton. You can also visit our website to book your preferred set and then pay at our facility after fitment.

You can find us at Unit 8B, Riversdale Industrial Estate, Hacken Lane, Bolton, BL3 1SJ.